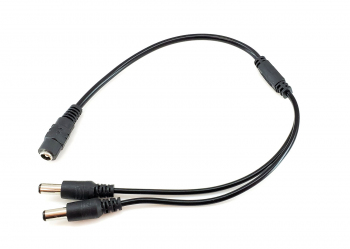 2 Way Power Supply Splitter
2 way power supply splitter - use to split the power from 1 power supply to 2 RGB controllers or other devices. Perfect for powering LED strips on 2 edges of an arcade cabinet at once. *NOT* recommended for splitting power to Ultimarc AimTrak guns. Per Ultimarc, a power splitter is not recommended, each gun should have their own power supply. We no longer suggest a splitter as it can kill recoil solenoids. Dead recoils powered from a splitter will not be covered under warranty.
2 Way Power Supply Splitter Reviews
Read all reviews
Featured positive reviews:
Good cord
10/06/2020
Nothing too special about this cord. The only negative would be I wish the splitter ends were a little longer but works well.
Great Product
02/02/2022
Works great and as intended. Great customer service! Great price! Fast shipping! Will do business again.
Great item
12/12/2022
Saves me the trouble for adding more and more wires…… easy wire management because of this item