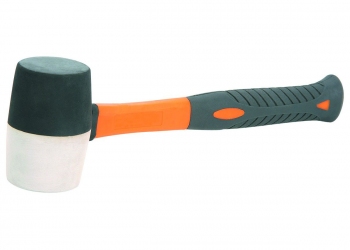 1lb Fiberglass Handle Rubber Mallet
| Read all reviews
SKU
RUBBER-MALLET
Price $12.95
1lb Fiberglass Handle Rubber Mallet
This 1 lb. rubber mallet is the ideal tool to press t-molding into place without damaging it! The black and white head prevents marking while the polypropylene handle with fiberglass core provides comfortable operation. We find the white side to be softer and the better choice over the two for tapping t-molding into place.
Black and white head to prevent marking
Polypropylene handle with fiberglass core
Nonslip rubber grip
Head Weight: 1 lb
Product Length: 13 in
Striking Face Size: 2-5/16 in
1lb Fiberglass Handle Rubber Mallet Reviews
Read all reviews
Featured positive reviews:
Excellent!
10/17/2017
The rubber mallet worked like a charm. So glad I purchased along with the t-molding. It made the job that's much easier and enjoyable, because I had peace of mind of using the right tool for the right job. Thanks for everything.