1-1/2" Black Bumper T-Molding
| Read all reviews
SKU
T-BLA-150B
Slot Width
1/8"
$2.25

$1.95 On Sale!

You Save

per foot
More Details
Reviews
Related Items:
1-1/2" Black Bumper T-Molding
This 1.5" black bumper t-molding is priced per foot, and will ship as one continuous piece of molding up to 100ft long.
1-1/2" Black Bumper T-Molding Reviews
Read all reviews
Featured positive reviews:
1-1/2" Black Bumper T-Molding
05/13/2020
This is a good news, bad news situation. The product is vastly superior in quality to the molding I was attempting to duplicate for another counter top. I am having to completely redo the "T" tracks for T-Molding. Your molding is 3/16" wide and 7/16" deep. Saw blades don't come in 3/16" width, nor does a dado-stack have that narrow a width.

All that said, I am very impressed with your product and plan to order a narrower version in white once I get the current situation under control. I will definitely be looking closer at specifications for your products so I can plan accordingly.
Sailor
07/04/2021
This company delivers as promised. The products I've ordered and installed worked as described. Be sure and watch training videos regarding installation tips and ensure the T is in the kerf before hammering it home.
Works well. . .
05/30/2018
The 1.5" Bumper T-Molding works just as needed! It protects our exhibit panels' top and bottom edges perfectly! Great product!
1-1/2" Black Bumper T-Molding Related Items: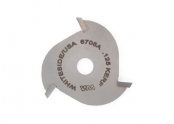 Whiteside Slotting Cutter 1/8" 3-Wing
Use with T-Molding that has a 11/64" or 3/16" wide spine (including the barbs).

Requires a slot cutting arbor, such as the A200B or equivalent.

Price $22.95