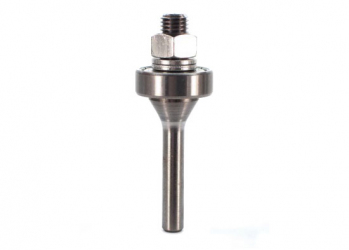 Whiteside Slotting Cutter Arbor 1/4" Shank
| Read all reviews
SKU
ARBOR-A200B-025
Price $9.95
More Details
Reviews
Related Items:
Whiteside Slotting Cutter Arbor 1/4" Shank
Shank: 1/4"
Overall Length: 2-3/8"
Manufacturer: Whiteside
Manufacturer #: A200B

Note: Includes a B5 bearing for 1/2" depth of cut.
Whiteside Slotting Cutter Arbor 1/4" Shank Reviews
Read all reviews
Featured positive reviews:
Great Product, Great Customer Service
08/27/2020
I finally got around to my first arcade build and have never owned a router. Of course I need that to install the T-Moulding. I placed my order on a Friday and received my arbor and bit the following Wednesday. The pieces work great with my router and the T-Moulding looks awesome.

Since it was my first build, I had a lot of questions. The T-Molding staff responded quickly to my inquiries and were very helpful. I highly recommend their products and again thanks to their staff for all the help. Now, can you help me get my 10 year old of my arcade machine? :-)
Doesnt quite stay rust free
10/23/2017
This shank for the tri-wing blades is useful, looks beautifully made when you first get it but I have one issue with it that isn't quite really an issue. This part does tend to rust a little when you touch it. I'm sure it doesn't really effect the performance at all, It just makes your 3 day old tool almost look 4 years old.
Five stars!
08/30/2017
Great seller. Very professional and pleasant experience. Seller even emailed to let me know of extra fees that would be charged by shipping company.
Product worked great. Never used a router before and it was very easy to do it. Used with Whiteside Slotting Cutter 0.080" 3-Wing.
Whiteside Slotting Cutter Arbor 1/4" Shank Related Items: