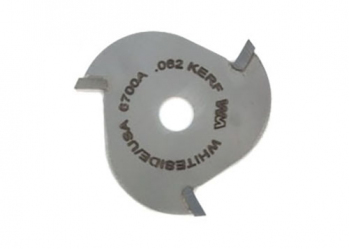 Whiteside Slotting Cutter 1/16" 3-Wing
| Read all reviews
SKU
3WNG-6700A-116
Price $18.95
More Details
Reviews
Related Items:
Whiteside Slotting Cutter 1/16" 3-Wing
Slot cutting router bit for use with T-Molding that has a 3/32" wide spine (including the barbs).

Requires a slot cutting arbor, such as the A200B or equivalent.

Kerf: 1/16" (Slot Width)
Manufacturer: Whiteside
Manufacturer #: 6700A

Whiteside Slotting Cutter 1/16" 3-Wing Reviews
Read all reviews
Featured positive reviews:
Great Product, Great Customer Service
08/27/2020
I finally got around to my first arcade build and have never owned a router. Of course I need that to install the T-Moulding. I placed my order on a Friday and received my arbor and bit the following Wednesday. The pieces work great with my router and the T-Moulding looks awesome.

Since it was my first build, I had a lot of questions. The T-Molding staff responded quickly to my inquiries and were very helpful. I highly recommend their products and again thanks to their staff for all the help. Now, can you help me get my 10 year old of my arcade machine? :-)
Slim Margin!
02/10/2017
I am very pleased with this slot cutter. 1/16th of an inch is a very narrow slot. No other way to do the job. Very pleased with the final product, too.

I practiced on a few things around the shop which might not otherwise have gotten an edge... I might prefer, next time, to have the router mounted under a table, rather than free-hand... but... once the dept was set we got good results. Thank You T-Molding.com for recommending this tool.
Perfect Solution
12/29/2016
The shop I inherited by moving into a 20 year old house had cabinets and a plywood countertop. I installed laminate on the countertop, but decided on t-molding for the edges, to provide needed toughness for the shop. T-molding is great quality and the router bit for cutting the groove for the molding was the perfect tool. Worked out great!
Whiteside Slotting Cutter 1/16" 3-Wing Related Items: