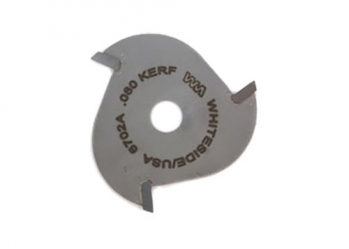 Whiteside Slotting Cutter 0.080" 3-Wing
| Read all reviews
SKU
3WNG-6702A-080
Price $18.95
More Details
Reviews
Related Items:
Whiteside Slotting Cutter 0.080" 3-Wing
Slot cutting router bit for use with T-Molding that has a 7/64" wide spine (including the barbs).

Requires a slot cutting arbor, such as the A200B or equivalent.

Kerf: 0.080" (Slot Width)
Manufacturer: Whiteside
Manufacturer #: 6702A

Whiteside Slotting Cutter 0.080" 3-Wing Reviews
Read all reviews
Featured positive reviews:
Five stars!
08/30/2017
Great seller. Very professional and pleasant experience. Seller even emailed to let me know of extra fees that would be charged by shipping company.
Product worked great. Never used a router before and it was very easy to do it. Remember to use it with letters pointing down and make sure router is firm and flat with surface for perfect cut.
Squirrel
02/05/2019
Greatest company to deal with by far. The right products at the right price and unbeatable customer service not to mention rocket fast shipping. What more could anyone ask for? I would also like to mention the quality, Wow.
As advertised
03/18/2019
I bought the T molding as well as the router bit to go with. The router bit works great, and the molding fits great. highly recommended!
Whiteside Slotting Cutter 0.080" 3-Wing Related Items: