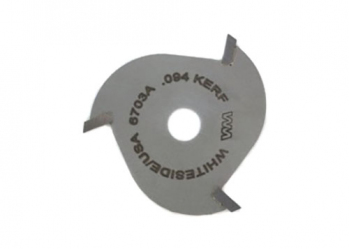 Whiteside Slotting Cutter 3/32" 3-Wing
| Read all reviews
SKU
3WNG-6703A-332
Price $20.95
More Details
Reviews
Related Items:
Whiteside Slotting Cutter 3/32" 3-Wing
Slot cutting router bit for use with our LED T-Molding Housing or any other T-Molding that has a 1/8" wide spine (including the barbs).

Requires a slot cutting arbor, such as the A200B or equivalent.

Kerf: 3/32" (Slot Width)
Manufacturer: Whiteside
Manufacturer #: 6703A

Whiteside Slotting Cutter 3/32" 3-Wing Reviews
Read all reviews
Featured positive reviews:
Awesome
07/15/2019
Bought a shank and slotting cutter (3/32) for 1/8" spine t-molding for RV floor edging. I had to print a bearing spacer to limit depth, but worked like a charm. Would be cool if they also sold spacers or different sized bearings. Shipping was fast too...great company!
Decent Tool
10/23/2017
This 3 wing blade is nice, really sharp, and It has a coating on the outsides to keep it rust free. The only Issue I really have with this set is that they dont sell this with the shaft already with it.
Great product.
06/06/2022
The t mounding was absolutely perfect for this project. Gr3at flexibility and easy to install.
Whiteside Slotting Cutter 3/32" 3-Wing Related Items: