2" White T-Molding
| Read all reviews
SKU
T-WHI-200
Slot Width
3/32"
Starting Price $1.15

per foot
More Details
Reviews
Related Items:
2" White T-Molding
This 2" White t-molding is priced per foot, and will ship as one continuous piece of molding up to 150ft long.
2" White T-Molding Reviews
Read all reviews
Featured positive reviews:
Perfect!
04/06/2020
I had a project that required really wide T-molding. The materials showed up just as promised, the pricing was very reasonable, and the transaction seamless. If you need to bend around a radius I would recommend a heat gun or a hair dryer as it is a bit stiff, but that was expected for my application! The wide selection from this company will keep me coming back for all of my t-molding needs.
T molding
11/03/2021
Great product as advertised & great price.
I only needed a certain amount & everywhere else wanted to sell me the whole roll for over $200 . I was able to get just what I needed thanks T Molding.com
2" White T molding vinyl
10/12/2022
Purchased to repair cieling strips in motorhome. They had seperated from orginal t molding. Worked fantastic looks great . A very good product and good company to work with.
2" White T-Molding Related Items: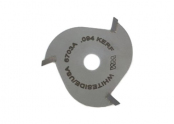 Whiteside Slotting Cutter 3/32" 3-Wing
Use with our LED T-Molding housing or any T-Molding that has a 1/8" wide spine (including the barbs).

Requires a slot cutting arbor, such as the A200B or equivalent.

Price $20.95