1/2" Black Bumper T-Molding
| Read all reviews
SKU
T-BLA-050B
Slot Width
0.080
Starting Price $0.75

per foot
More Details
Reviews
Related Items:
1/2" Black Bumper T-Molding
This 1/2" black bumper t-molding is priced per foot, and will ship as one continuous piece of molding up to 250ft long.
1/2" Black Bumper T-Molding Reviews
Read all reviews
Featured positive reviews:
Great Product
10/18/2021
So this "Bumper" is definitely smaller than I was expecting in regards to "bulge size", but it worked nicely for my arcade cabinet. The other thing to keep in mind, it's plastic still... not rubber like one would think when "thinking about" bumpers. That said, it fit snuggly into the groove, and needed a little extra push to force it into the groove, but didn't need glue like other products to hold it in place!
Good product
01/28/2022
Just like advertised. Seems to be of good quality. Would purchase again. Shipped fast.
Great product
02/26/2020
Just as described, on time. Would use this company again.
1/2" Black Bumper T-Molding Related Items: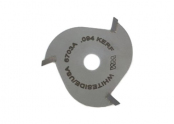 Whiteside Slotting Cutter 3/32" 3-Wing
Use with our LED T-Molding housing or any T-Molding that has a 1/8" wide spine (including the barbs).

Requires a slot cutting arbor, such as the A200B or equivalent.

Price $20.95