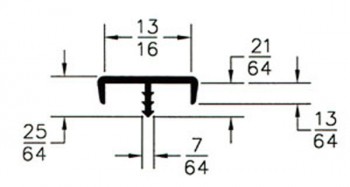 13/16" White T-Molding, with Lip
| Read all reviews
SKU
T-WHT-81Lip
Slot Width
0.080"
Starting Price $0.85

per foot
More Details
Reviews
Related Items:
13/16" White T-Molding, with Lip
This 13/16" White lipped t-molding is priced per foot, and will ship as one continuous piece of molding up to 250ft long.
13/16" White T-Molding, with Lip Reviews
Read all reviews
Featured positive reviews:
T-Molding
08/22/2019
After being told the trim for my 1999 Jamboree Motorhome is discontinued I found this to replace my rotten trim. It's not exact but did the job nicely. My divider wall between the cab and the Motorhome looks new again. So happy I accidentally found this web site. Very reasonably priced and nearly a perfect fit.
RV perfect
03/06/2017
I have a 2000 Jamboree class C Motorhome and the edging in the walk thur was all broken and cracked. This was helping in aging the unit. By replacing it with this molding it helps keep a fresh look and replaced the stock very easily. Great Product.
Hard to Find trim
07/19/2018
I have repeatedly, unsuccessfully tried to locate this particular T molding. T Molding not only had the exact molding I was replacing, they also shipped next day without delay. Very happy with this purchase.
13/16" White T-Molding, with Lip Related Items: