1.5" Black T-Molding
1.5" Black T-Molding
5
Average rating:

| Read all reviews
SKU
T-BLA-150
Slot Width
0.080"
Starting Price $0.75

per foot
More Details
Reviews
Related Items:
1.5" Black T-Molding
This 1-1/2" Black t-molding is priced per foot, and will ship as one continuous piece of molding up to 250ft long.
1.5" Black T-Molding Reviews
Read all reviews
Featured positive reviews:
1.5" Black T-Molding

Awesome Deal & Quality
10/04/2017
The title says it all. I had a great buying experience with T-Molding.com. The product came quickly, was packaged well, and was as described. Now that it's installed, it looks great and functions as I had hoped it would. I've always used 3/4" t-molding in the past when building simple tables and stands and avoided larger t-molding out of paranoia of using an unfamiliar product. Well, it installed just as easily as the smaller stuff and now that it's on the kid's craft table, which it's now 1.5" edging, it'll hold up to their abuse and man, can they abuse things. At least now, I can clean it up easily, I don't have to worry about them leaning and crawling on the edges and breaking things, and finally, I don't have to worry about nicks and scratches glaring back at me. Thanks for the great product and pleasurable buying experience!
1.5" Black T-Molding

Arrived quickly and fit great
06/11/2017
I was rebuilding a electronics work bench from an old College Lab table from the 50's or 60's and the original trim was brittle and parts were already broken off. The molding arrived to the west coast quicker than I expected, which was great. The trim was perfect for the job and exactly what I ordered and needed to finish my project. I'm not the handiest of people and I am happy at how easy this was to use. I didn't need much more than some vise grips, wood glue and a box cutter and everything turned out great. I would definitely order from T-Molding again if I do another project.
1.5" Black T-Molding

Easy purchase
07/10/2017
Website was easy to navigate and make purchase. Shipping was quick and well packed.
the T-molding was as described but too thin and light duty for my application, which I new was a possibility without being able to see it first. I thought the barb was small for the size of the molding. I took a chance and it didn't work out. and I ruined the 10' piece trying to make it work. My fault. I would buy from T-Molding.com again
1.5" Black T-Molding Related Items: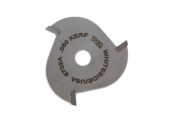 Whiteside Slotting Cutter 0.080" 3-Wing
Whiteside Slotting Cutter 0.080" 3-Wing
12
Average rating:

Use with T-Molding that has a 7/64" wide spine (including the barbs).

Requires a slot cutting arbor, such as the A200B or equivalent.

Price $18.95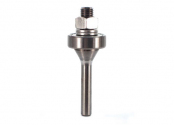 Whiteside Slotting Cutter Arbor 1/4" Shank
Whiteside Slotting Cutter Arbor 1/4" Shank
24
Average rating:

For use with all of our slot cutter router bits, for routers that use 1/4" shanks.
Price $9.95