1-5/8" Black T-Molding
| Read all reviews
SKU
T-BLA-162
Slot Width
3/32"
Starting Price $0.85

per foot
More Details
Reviews
Related Items:
1-5/8" Black T-Molding
This 1-5/8" t-molding is priced per foot, and will ship as one continuous piece of molding up to 250ft long.
1-5/8" Black T-Molding Reviews
Read all reviews
Featured positive reviews:
Great purchase
06/20/2018
The T-molding was well packaged, promptly shipped and arrived in perfect condition. The dimensions were just as described, and the molding was easy to apply. On a scrap piece applied to a scrap board for practice, I pulled the T-molding back off, just to test the "staying power". I have good confidence that this stuff will not come out, accept when deliberate effort is made to remove it.
Customer service was great! They answered my few technical questions before I purchased promptly, courteously and thoroughly, with further suggestions for installation. Great company.
Very good molding
09/06/2021
I bought the 1-5/8 t molding to edge a sewing machine table I had to rebuild. It worked great!
It formed around the 1" corner radius with just a little bit of heat from a heat gun. I tapped the molding in with a mallet and it held tight, no construction adhesive needed. I like this molding and will buy again. Fast shipping too!
T-Molding and cutter
08/20/2018
I purchased a 25 ft length of t-molding and the cutting tools to install it. Everything worked great almost like I knew what I was doing. My order was shipped right away. I will be sure to buy from T-Molding.com again when a job comes up.
1-5/8" Black T-Molding Related Items: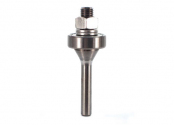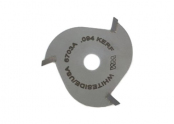 Whiteside Slotting Cutter 3/32" 3-Wing
Use with our LED T-Molding housing or any T-Molding that has a 1/8" wide spine (including the barbs).

Requires a slot cutting arbor, such as the A200B or equivalent.

Price $20.95