1-5/8" White T-Molding
| Read all reviews
SKU
T-WHI-162
Slot Width
3/32"
Starting Price $0.85

per foot
More Details
Reviews
Related Items:
1-5/8" White T-Molding
This 1-5/8" t-molding is priced per foot, and will ship as one continuous piece of molding up to 250ft long.
1-5/8" White T-Molding Reviews
Read all reviews
Featured positive reviews:
White T-Molding
07/18/2019
Fast delivery and worked well. I needed to replace some (external) molding on our bay window. This T-Molding was a perfect replacement. I was surprised that the molding came in such a small box, as the old moldings that I removed were about 4 feet long and stiff plastic. The T-molding I received was rolled up and flexible - much better. The (exterior) molding was a perfect replacement and I am very happy with the final results. Thanks!
Perfect
05/22/2020
I needed two 4' strips of white t-molding for my front bay window. I ordered 10' of molding, which came perfectly rolled up in a thin, small box. I was able to cut the molding with sharp kitchen sheers, the material is thin and flexible. Fits perfectly in between the windows. Fast shipping and arrived in perfect shape.
Exact fit!
09/29/2020
Needed to replace molding between windows next to each other. None of the hardware stores had what I needed. This t molding was an exact match!
1-5/8" White T-Molding Related Items: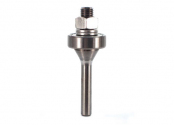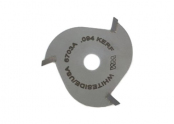 Whiteside Slotting Cutter 3/32" 3-Wing
Use with our LED T-Molding housing or any T-Molding that has a 1/8" wide spine (including the barbs).

Requires a slot cutting arbor, such as the A200B or equivalent.

Price $20.95