3/4" Black Bumper T-Molding
| Read all reviews
SKU
T-BLA-075B
Slot Width
0.080"
$1.00

$0.95 On Sale!

You Save

per foot
More Details
Reviews
Related Items:
3/4" Black Bumper T-Molding
This 3/4" black bumper t-molding is priced per foot, and will ship as one continuous piece of molding up to 250ft long.

Note: This is now a new version and the spine has decreased slightly from using a 3/32" slot to using a 0.080" slot.
3/4" Black Bumper T-Molding Reviews
Read all reviews
Featured positive reviews:
Perfect Product and Fit
01/12/2021
This product is excellent as was the delivery time. The recommended Whiteside bit for cutting the groove was a perfect fit. If you're wondering if this is the product for your needs - it is.
Arcade
09/03/2020
I ordered the molding to finish off my home build stand up arcade machine, the molding worked perfectly gave my arcade that finished professional look I was looking for.
T moulding
08/06/2017
Just what I needed. Works like a champ!
3/4" Black Bumper T-Molding Related Items: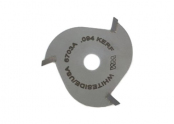 Whiteside Slotting Cutter 3/32" 3-Wing
Use with our LED T-Molding housing or any T-Molding that has a 1/8" wide spine (including the barbs).

Requires a slot cutting arbor, such as the A200B or equivalent.

Price $18.95