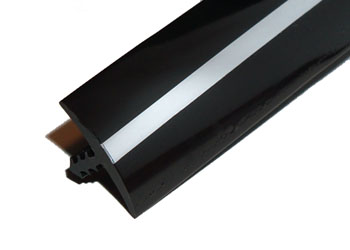 3/4" Black-Chrome-Black T-Molding
| Read all reviews
SKU
T-BLKCHRBLK-75
Slot Width
3/32"
Starting Price $0.85

per foot
More Details
Reviews
Related Items:
3/4" Black-Chrome-Black T-Molding
Bright 3/4" black t-molding with a bright chrome strip down the center.

This item is priced per foot, and will ship as one continuous piece of molding up to 250ft long.

This molding has a wider spine than our other 3/4" moldings and requires a 3/32" slot.
3/4" Black-Chrome-Black T-Molding Reviews
Read all reviews
Featured positive reviews:
Black moulding with chrome strip
06/16/2016
This moulding has a surface that is more reflective than the flat black version. The chrome strip that runs down the middle appears to be adhered well, and it does add some class. You need to note that it is a bit thicker than the flat-black version, so the groove you make should be a hair wider as it is very tight. That being said, this moulding is worth the extra cost.
Great Product, Fast shipping.
05/26/2016
This is not my first order and all of them have been shipped/received faster than expected! The T-molding is very sturdy and looks great. I'll purchase more for sure. One thing to note- this particular T-molding is more rigid than something like the basic black and need a bit more alignment when inserting into slot.
Terrific T Molding
02/07/2019
I have bought thousands and thousands of various t moldings from this company for years...and I never once had an issue...fast shipping and great prices! I have featured their T Molding in many of my YouTube videos also! Todd N. Tuckey President of TNT Amusements Inc
3/4" Black-Chrome-Black T-Molding Related Items: