3/4" White T-Molding
3/4" White T-Molding
24
Average rating:

| Read all reviews
SKU
T-WHI-75
Slot Width
1/16"
Starting Price $0.37

per foot
More Details
Reviews
Related Items:
3/4" White T-Molding
This 3/4" white t-molding is priced per foot, and will ship as one continuous piece of molding up to 250ft long.
3/4" White T-Molding Reviews
Read all reviews
Featured positive reviews:
3/4" White T-Molding

New at T-Molding Install
12/30/2016
I purchased 270 feet of 3/4 inch white T-molding to replace the T-molding on our 20 year old garage cabinets. The old molding was cracked on the average about every 2-4 inches and was turning yellow (not sure where the contractor got his molding). This was the first time I've done a project like this. It took several hours to remove the old molding due to so many very short fractured segments. The new T-molding went on so easily even with rounding the edges. I never could have afforded to do this cosmetic upgrade without such great prices from T-Molding.com and it made such a difference. Thanks to the company for a great product at a great price. The straight cut tool I purchased worked extremely well and I was so glad I added that to my order. Thanks so much to T-Molding.com!!!
3/4" White T-Molding

t-molding
04/12/2017
I ordered and received exactly the product I was expecting. Unfortunately it would not work for my particular project. So I am in the process of returning it and have mailed the molding back in full in its original package. I have been told that once they received my product back they will issue me a full credit. I have every confidence that it will be done exactly that way. I must say, this company was right on top of my order and processed and shipped it immediately. If I have any need in the future of this type of t-molding, I will definitely use t-moldings.com. Thank you for all your help!
3/4" White T-Molding

White 3/4 in. T-molding
06/23/2017
Ordered the molding on Friday and received it on Tuesday. The 3/4 in. Molding worked amazing in my motorhome and looks beautiful compared to the old molding. Install was as easy as measure cut and install. Had a hard time finding product until I found T- Molding.com. and will order from no one else. Thank You for a Great Product.
3/4" White T-Molding Related Items: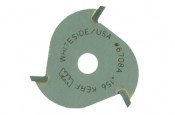 Whiteside Slotting Cutter 1/16" 3-Wing
Whiteside Slotting Cutter 1/16" 3-Wing
9
Average rating:

Use with T-Molding that has a 3/32" wide spine (including the barbs).

Requires a slot cutting arbor, such as the A200B or equivalent.

Price $17.95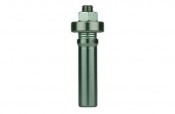 Whiteside Slotting Cutter Arbor 1/4" Shank
Whiteside Slotting Cutter Arbor 1/4" Shank
13
Average rating:

For use with all of our slot cutter router bits.
Price $9.95