5/8" Black Bumper T-Molding
| Read all reviews
SKU
T-BLA-062B
Slot Width
3/32"
Starting Price $0.75

per foot
More Details
Reviews
Related Items:
5/8" Black Bumper T-Molding
This 5/8" black bumper t-molding is priced per foot, and will ship as one continuous piece of molding up to 250ft long.
5/8" Black Bumper T-Molding Reviews
Read all reviews
Featured positive reviews:
Bumper molding for my motorhome
04/26/2020
I don't order this sort of thing every week and so I had had some difficulty negotiating your on-line catalogue. Once I'd settled on what I needed, ordering was a breeze and I received the molding promptly. I took off the twist ties and let the molding sit in the motorhome overnight so it wasn't so tightly looped. It cut easily with a sharp box cutter and fit perfectly in the old molding's groove. Completely covered the shelf and cabinet edges. Looks very nice!
Incredibly happy.
11/28/2020
Needed t molding in multiple colors and thicknesses for the remodel of a popup camper. Everywhere I looked either didn't have the colors or you had to buy in 100' rolls. Ordering from here saved me money, we had almost zero waste and our popup turned out perfect!
5/8" Black Bumper T-Molding Related Items: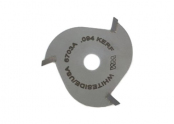 Whiteside Slotting Cutter 3/32" 3-Wing
Use with our LED T-Molding housing or any T-Molding that has a 1/8" wide spine (including the barbs).

Requires a slot cutting arbor, such as the A200B or equivalent.

Price $20.95